Switzerland – October 2021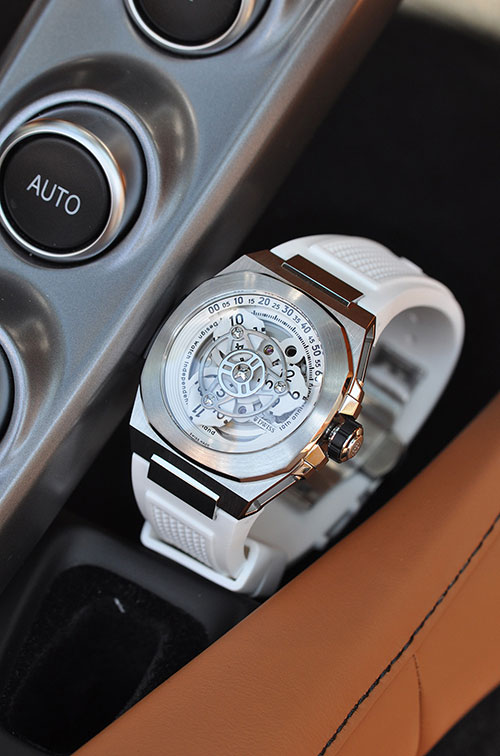 DWISS IS COMPLETING 10 YEARS, AND TO CELEBRATE ITS ANNIVERSARY WE ARE LAUNCHING A SWISS MADE AUTOMATIC WANDERING HOURS WATCH: THE M3W.
The case design inspiration came from the past model M3, which was produced in Switzerland and was designed in the world's first Watch Design Club, where 100 members came together to create a watch during the year of 2020. The fabulous design of the model M3 has already guaranteed to this watch two design awards until now: the ePDA and the Good Design Award, totalising 13 design awards for DWISS since its foundation.
The difference between the new M3W from the previous model M3 is that the anniversary edition watch has a domed bezel and double domed sapphire crystal, and the most important: an wandering hour module with three satellites discs over the skeleton dial that shows the modified Sellita SW-200 movement used in this collection.
The wandering hours concept was first created in the 17th century by the Campanus brother. It consists of an arm with discs at the ends that shows the current hour and points to the minutes along the arc-shaped track. The system thus combines a digital display and an analogue indication in an intuitive way of telling the time.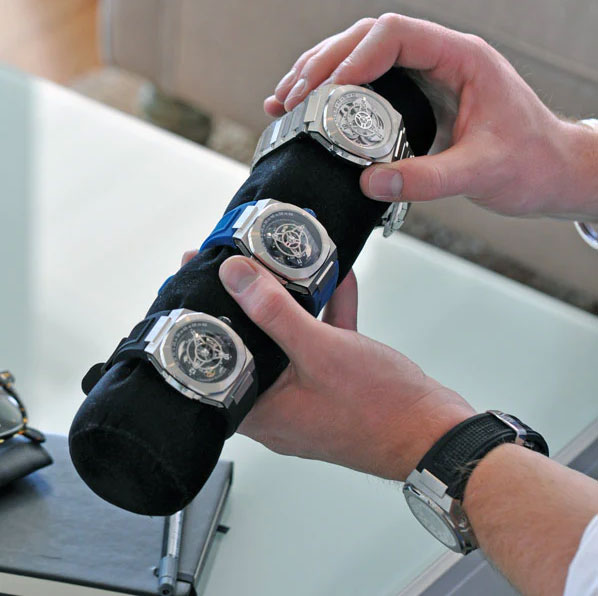 In recent years, some of the most prestigious watch brands have used this concept to produce incredible watches, now it's time for DWISS to do it for a second time in its anniversary edition timepieces.
The M3W collection is available in four dial colors: Black with White indexes, Blue with White indexes, Green with White indexes, and White with Black indexes. Super-LumiNova illuminates the display at night. M3W uses blue BG-W9 and BL black NL for the black markers on the white dial models.
The multipiece 42mm stainless steel case of the M3W features deep recesses on the case sides and hex screws that flank the crown guards. Sharp edges separate brushed and polished surfaces. This includes the circular brushed domed bezel that surrounds the double domed sapphire crystal with an anti-reflective coating. A screw-down crown and screw-down transparent caseback provide the M3W with 200m of water resistance.
The M3W is available in a limited series of 500 pieces. It is priced at $1,990 USD on a rubber strap and $2,190 USD on the stainless steel bracelet. If you're looking for high-quality swiss watches with innovative time displays here's a great choice.
BECAUSE ANY WATCH CAN TELL TIME, DWISS TELLS IT DIFFERENTLY.
FRENCH VERSION:
DWISS, LA CHAMPIONNE SUISSE DES CONCOURS DE DESIGN HORLOGER FÊTE SES 10 ANS
Suisse – Octobre 2021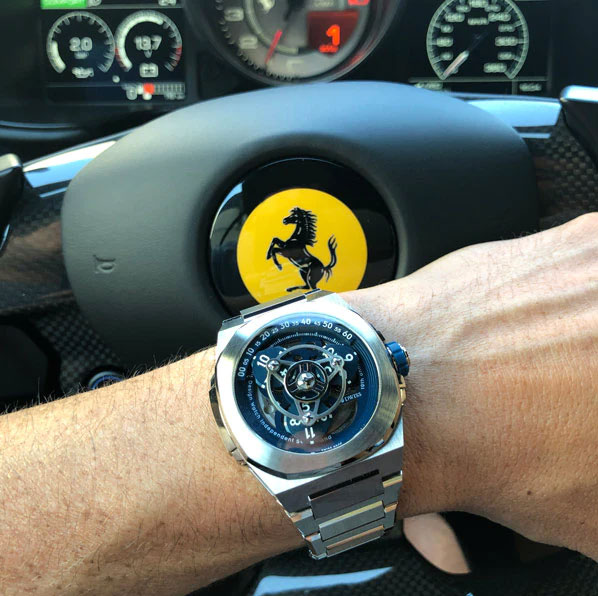 Il y a 2 ans, la marque horlogère indépendante suisse DWISS annonçait la création du 1er Club de Design Horloger au monde et créait la M3. Conçue collectivement par les 100 membres que compte le Club, la M3 a déjà reçu deux prix de design (l'ePDA et le Good Design Award), soit un tot al de 13 prix de design attribués à la marque depuis sa création en 2011.
En 2021, DWISS fête ses 10 ans et lance pour l'occasion une collection anniversaire inspirée de la M3 : la M3W, une montre automatique « heure vagabonde » dont le cadran squelette révèle le mouvement Sellita SW-200 modifié à cet effet.
Inventée au 17ème siècle par le frère Campanus, l'« heure vagabonde » consiste en trois disques satellites qui indiquent l'heure successivement et pointent vers les minutes le long d'une piste en arc de cercle. Le système combine intuitivement un affichage numérique et une indication analogique. D'autres marques horlogères parmi les plus prestigieuses ont privilégié ce concept ces dernières années, et c'est la deuxième fois de son histoire que DWISS l'utilise. Outre son affichage original, la M3W se distingue de son aînée par sa lunette bombée et son verre saphir double bombé.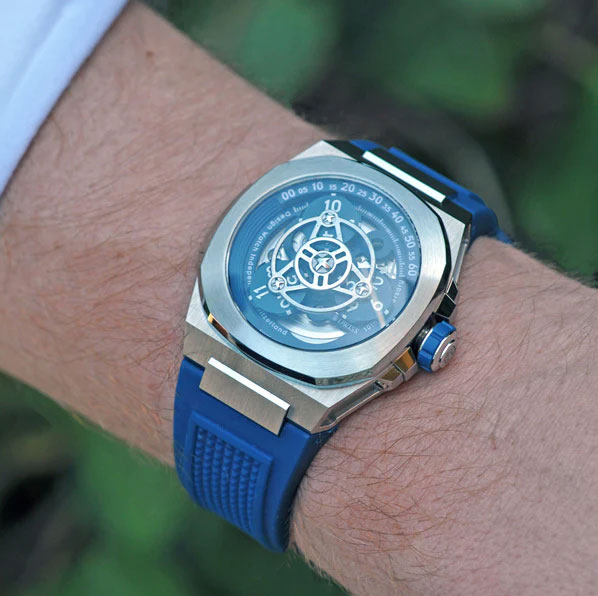 La collection anniversaire M3W est disponible en quatre couleurs de cadran : noir avec index blancs, bleu avec index blancs, vert avec index blancs et blanc avec index noirs. Super-LumiNova illumine l'écran dans le noir. M3W utilise le bleu BG-W9 et le BL noir NL pour les marqueurs noirs sur les modèles à cadran blanc.
Le boîtier en acier inoxydable de 42 mm de la M3W présente de profonds évidements sur les côtés du boîtier et des vis hexagonales qui flanquent les protège-couronnes. Les arêtes vives séparent les surfaces brossées et polies. Cela inclut la lunette circulaire en forme de dôme brossé qui entoure le verre saphir à double dôme avec un revêtement antireflet. La couronne et le fond transparent vissés assurent une parfaite étanchéité jusqu'à 200m.
La M3W est une édition limitée de 500 pièces proposées au prix de 1 990 USD sur bracelet en caoutchouc et de 2 190 USD sur bracelet en acier inoxydable.
PARCE QUE N'IMPORTE QUELLE MONTRE DONNE L'HEURE, DWISS LA DIT DIFFÉREMMENT.
WANDERING HOUR COMPLICATION